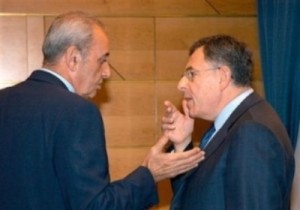 Former PM and current Future bloc leader MP Fouad Siniora on Wednesday responded to Speaker Nabih Berri's criticism that the bloc is "placing conditions" for engaging in national dialogue.
In a statement issued by his office, Siniora questioned Berri's comments, asking "If Hezbollah's arms are a source of dispute in the country, then why wouldn't we want to call for addressing it in dialogue ?"
The statement said : "Hezbollah's arms is the only pending issue out of a number of matters proposed by Berri during his press conference on March 3, 2006, so why is he questioning our demand to return to his suggestions?"
The statement added: "We are all aspiring for the rise of the fair and capable state, which controls the arms and is able of confronting Israel."
Siniora asked in the statement : "Why haven't the decisions of the dialogue been implemented, especially those on demarcating the Lebanese-Syrian border and tackling the possession of arms inside and outside Palestinian refugee camps?"
"The Future bloc mentioned in its Tuesday statement that dialogue has always been the best way to resolve disputes," the statement said.
It also said that "the everyone's intention is to look for solutions….on condition that all parties' demands are taken into account."
Siniora added that his bloc believes "no progress can take place" if the issue of Hezbollah's arms is not tackled.
In a reference to the Future bloc, Berri said in remarks published Wednesday that "whoever wants to participate in the national dialogue sessions should not do so demanding conditions."
In May 2008 Hezbollah , which claims to be a resistance movement aimed at defending Lebanon against Israel pointed its guns against the Lebanese people when its gunmen invaded and occupied the western part of Beirut and tried but failed to occupy Mt Lebanon.