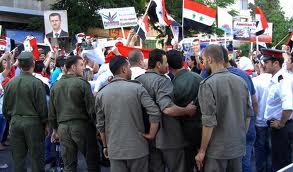 Qatar's ambassador to Damascus, Zayed al-Khayarine, has quit Syria and the Qatari embassy in Damascus has suspended its mission indefinitely after pro-government Syrians attacked the building housing it, a Syrian newspaper reported Monday.
Earlier today a Syrian employee at the embassy told the semi-official newspaper Al Watan:
'Members of the Qatari diplomatic mission have informed us that work in the embassy is suspended,' adding :
'They have also informed us that all diplomats of the embassy and its consular affairs section will leave for Qatar.'
Last week, supporters of the Syrian government threw stones, eggs and tomatoes at the Qatari embassy in protest against the Doha-based news broadcaster Al Jazeera's coverage of the unrest in the country.
Qatar had long enjoyed cordial relations with Damascus but recently Al-Jazeera has come under strong criticism by the Syrian authorities for its coverage of the popular revolt against President Bashar al-Assad's regime .
Syria has been gripped by pro-democracy protests since mid-March in which more than 1,500 people were killed, according to human rights advocates.
Syrian authorities have barred most foreign media and international human rights groups from entering the country.
Official Syrian media regularly accuse foreign news services of using fabricated images and of not verifying their sources in their coverage of the uprising.