Interior minister calls Rifi one of the best officers in ISF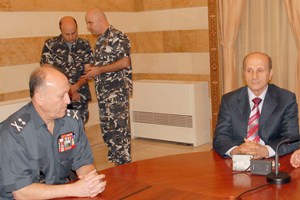 During an interview with Al-Balad newspaper on Sunday Interior Minister Marwan Charbel defended ISF Director General Achraf Rifi when he was asked to give his opinion about him calling him one of the best officers in the security forces.
"General Achraf Rifi is one of the best officers in the security forces." Charbel said and added
"Rifi wanted to defend this institution and he sometimes had to adopt a certain attitude, but today we are defending all security institutions and if someone ever makes a mistake he will be punished but away from the media."
Rifi came under attack by Hezbollah and its allies at Free patriotic Movement which is headed by MP Michel Aoun following the Ogero incident.
Reports have revealed that the reason behind former telecom minister Charbel Nahhas' attempt to take over Ogero's telecom network that was on the second floor of the Telecommunications Ministry was because of Syria.
There were rumors that the network which was donated to Lebanon by the Chinese was being used by the opposition in Syria, but according to experts the network has never been put into operation. The experts also believe that even if the equipment was operational it could not be of help to the Syrian opposition in any way.
Dr. Ziad Ajouz leader of the Free Nasserite Movement described Nahhas' plan to dismantle the Ogero telecom station as a militia action. Ajouz said Nahhas was accompanied by Hezbollah gunmen to dismantle the OGERO station that is being always guarded by the internal security forces. Ajouz said that Nahhas got the password from Hezbollah chief Sayyed Hassan Nasrallah. Nahhas represented MP Michel Aoun in the former government