Hezbollah accuses March 14 of blackmail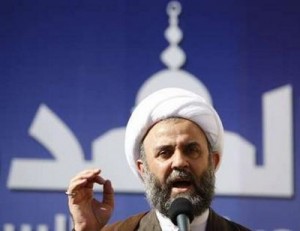 Hezbollah deputy Executive Council leader, Sheikh Nabil Qaouq accused the March 14 opposition alliance of exerting international pressure to weaken, blackmail and topple the newly formed government of PM Nagib Mikati calling their action a national sin .
Qaouq said on Sunday that "luring international pressure on the Lebanese cabinet is more than a national sin."
"It is unfortunate to see that at a time when the cabinet is seeking to confront the Israeli danger, the March 14 forces are luring international pressure to weaken, blackmail and topple the government," he said and added
"We have blocked the road to American hegemony and we won't allow it to return."
He slammed the international community for not being concerned with Lebanon's sovereignty, wondering why it isn't defending Lebanon's right to reclaim the Shebaa farms, Kfarshouba hills and the village of Ghajar from Israel.
The Iranian and Syrian backed brought down PM Saad Hariri's government on January 12 over the Special Tribunal for Lebanon's ( STL) indictment which was widely expected to implicate Hezbollah members in the assassination of former PM Rafik Hariri in 2005.
The Special Tribunal for Lebanon issued the indictments in the assassination of Lebanon's former PM Hariri on June 30. An STL delegation met with Lebanon's state prosecutor Said Mirza and handed him a copy of the Lebanon portion of the indictment and the arrest warrants. Two of the suspects Mustafa Badreddine and Salim Ayyash are reportedly senior members of the Iranian and Syrian-backed Hezbollah while the other two Hassan Aneissy, also known as Hassan Issa, and Assad Sabra played a supporting role in the execution of the assassination.