14 killed as Syria witnesses largest ever protests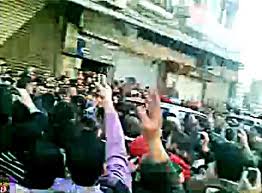 Syrian security forces shot dead at least 14 protesters on Friday as hundreds of thousands of people took to the streets across the country in the biggest protests so far against President Bashar al-Assad.
Assad, facing the greatest challenge to 40 years of Baath Party rule, has sought to crush demonstrations. But although rights groups say some 1,400 civilians have been killed since March, the protests have continued unabated and swelled in size.
"These are the biggest demonstrations so far. It is a clear challenge to the authorities, especially when we see all these numbers coming out from Damascus for the first time," said Rami Abdelrahman, head of the Syrian Observatory for Human Rights.
Police fired live ammunition and teargas in the capital Damascus, killing seven people, and in southern Syria near the Jordanian border, where four people were killed, witnesses sand activists said. Three protesters were shot dead in the northern city of Idlibm, they said.
"We are in Midan and they are firing teargas on us, people are chanting," a witness said by telephone from the center of Damascus.
In the city of Hama, scene of a 1982 massacre by the military, live video footage by residents showed a huge crowd in the main Orontos Square shouting "the people want the overthrow of the regime."
At least 350,000 people demonstrated in the eastern province of Deir al Zor, the Syrian Observatory for Human Rights said. Syrian forces shot dead two pro-democracy protesters there on Thursday, residents said.
Despite being the center of Syria's modest oil production, Deir is among the poorest regions in the country of 20 million. The desert area has suffered water shortages for six years which experts say have been caused largely by mismanagement and corruption, and have decimated agricultural production.
As well as police and the army, Assad has also deployed irregular militia known as shabbiha from his Alawite minority sect, a branch of Shi'ite Islam. Sunni Muslims are the biggest group in Syria.
International powers, including Turkey, have cautioned Assad against a repeat of massacres from the era of his father, the late President Hafez al-Assad, who crushed leftist and Islamist challenges to his rule. This culminated in the killing of up to 30,000 people in Hama in 1982.
The U.S. and French ambassadors visited Hama in a show of support last Friday. Three days later their embassies were attacked by Assad loyalists. No one was killed in the attacks, which were condemned by the United Nations Security Council.