US-Syria relations nosedive after embassy attacks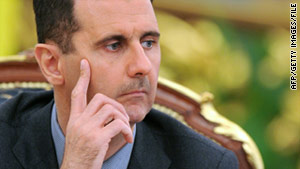 Syria's relations with Washington and Paris nosedived on Tuesday, four months into a revolt against President Bashar al-Assad, after Assad loyalists attacked the embassies of the two Western states.
The Syrian foreign ministry accused US Secretary of State Hillary Clinton of "incitement" after she maintained Assad had lost legitimacy and the right to remain in power.
"Syria vigorously condemns the remarks of the US secretary of state that amount to further proof of the flagrant interference of the United States in the internal affairs of Syria," it said in a statement.
"These remarks are an act of incitement aimed at continuing the internal crisis and for objectives which do not serve the interests of the Syrian people or their legitimate ambitions," it said.
Clinton's remarks on Monday came after the French and US embassies in Damascus were targeted by Assad loyalists.
"President Assad is not indispensable and we have absolutely nothing invested in him… remaining in power," the secretary of state said. "From our perspective, he has lost legitimacy."
Mobs besieged the US and French embassies after the ambassadors of the two Western countries last week travelled to the flashpoint protest city of Hama, north of the capital.
Paris on Tuesday renewed its demand that the United Nations Security Council take a stance on the crisis in Syria.
"France and other European countries have submitted a proposed resolution to the UN Security Council, which has been blocked by Russia and China," Prime Minister Francois Fillon said in a radio interview.
"This is no longer acceptable," he said, branding the attack on his government's Damascus embassy, in which three French personnel were wounded, "extremely violent" and warning that Assad's regime was losing its grip.
French Foreign Minister Alain Juppe said: "Once again, we call on Syrian authorities to do their duty. All governments should ensure the security of embassies and diplomatic missions."
The foreign ministry said three French staff were injured in the attack, which forced guards to fire three warning shots, while Washington said no staff were hurt in a similar clash at its Damascus compound.
As Syrian security forces looked on, Assad supporters smashed their way into the French embassy compound with a battering ram, broke windows and destroyed the ambassador's car, according to a foreign ministry spokesman in Paris.
Last week, the French and US ambassadors to Syria made high-profile visits to the restive city of Hama.
AFP, Agencies