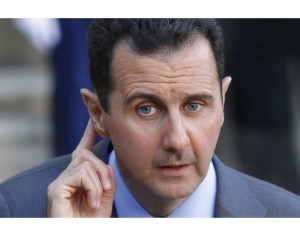 Syria denounced on Tuesday a statement by U.S. Secretary of State Hillary Clinton in which she said Syrian President Bashar al-Assad had lost legitimacy and was "not indispensable."
"Syria strongly condemns the statements of the American foreign minister … these remarks are provocative and aim at continuing the internal tension," Syria's state news agency, SANA, said.
"These statements are another proof of U.S.'s flagrant intervention in Syria's internal affairs. The legitimacy of Syria's leadership is not based on the United States or others, it stems from the will of the Syrian people," it said.
Diplomatic tension increased between the two countries after U.S. Ambassador Robert Ford visited the restive city of Hama, where Assad is facing growing demonstrations against his rule.
Syria said Ford sought to incite protests. The State Department denied that and said Ford toured Hama to show solidarity with residents facing a security crackdown.
Clinton's criticism followed a further rise in tensions on Monday with an assault by Assad loyalists on the U.S. and French embassies in Damascus.
France condemned Syria on Tuesday and said it wanted the U.N. Security Council to speak out on the events of the last two days in Syria.
It said the council's failure to speak out against the violent repression of protests in Syria was becoming "unbearable."
French Prime Minister Francois Fillon said China and Russia were blocking adoption of a U.N. resolution, which he said was unacceptable.
Human rights groups say at least 1,400 civilians have been killed since an uprising began in March against Assad's autocratic rule, posing the biggest threat to his leadership since he succeeded his father 11 years ago.