Berri tells Aoun: lets make a deal on appointments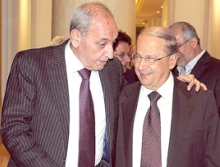 Speaker Nabih Berri has reportedly suggested making a deal with Free Patriotic Movement leader Michel Aoun over the top government administrative appointments. Berri is reportedly ready to give up the post of General Security Department leadership in return for the Army leadership.
The issue of appointments will be the top topic this Thursday during the first cabinet meeting ( after securing the vote of confidence) . Al-Liwaa newspaper reported that Berri's offer came after Aoun expressed the desire to return the position of the General Security's leadership to the Maronite sect rather than keeping it with the Shiites. The position was most recently held by the late General Wafik Jezzini, a Shiite who passed away last March after suffering from a terminal illness. Jezzini like his predecessor Jamil Al Sayed was very closely associated with Hezbollah ). Sayed , who is also a Shiite was one of Syria's top operatives in Lebanon from 1998-2005, when he was imprisoned in connection with the assassination of former Lebanese premier Rafik Hariri .
The Army leadership is currently being held by General Jean Kahwaji, who is a Maronite
and Internal Security Forces chief is being held by General Ashraf Rifi , a Sunni
Hezbollah and Amal are reportedly backing Maj. Gen. Abbas Ibrahim for the General Security leadership post.
Al-Hayat newspaper reported that Aoun hasn't yet made any public announcement on the issue of General Security Department leadership appointment because he is hesitating into engaging in a political battle with the Shiites .