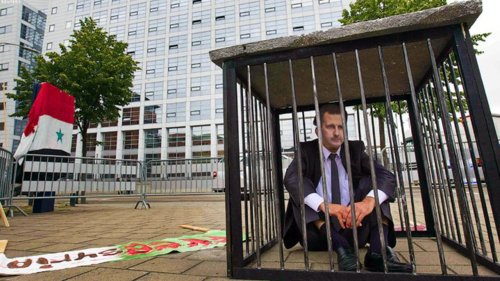 By Anne Penketh
Hillary Clinton yesterday came perilously close to telling the Syrian leader, Bashar al-Assad, to go. After Syrian security forces stood by while pro-government thugs attacked US embassy buildings in Damascus, the US Secretary of State told reporters that Assad had "lost legitimacy".
It was a further nuance in the administration's position after President Barack Obama said that Assad should either "lead the transition or get out of the way." But the Syrians who continue to face death as they call for his removal know that the so-called national dialogue instituted by Assad is a farce. He will not lead a transition to democracy, and that is where the West is mistaken to continue to place hopes in him.
The Syrians themselves must find a way out of this horror. Unlike Libya, the opposition is not calling for Western help in overthrowing their dictator. But what can we do other than standing on the sidelines wringing our hands?
It's true that the West has few options on Syria, a paralysis that has allowed Israel, Iran and Saudi Arabia to support the status quo to protect their own interests in the volatile region. The UN Security Council, because of Russia and China, but also Lebanon and other non-permanent Council members, has been unable to reach a consensus on the bare minimum that would condemn Assad's crackdown.
But a leader who declares war on his own people should be beyond the pale. The UN Security Council rightly instigated an International Criminal Court investigation against Libyan leader Moammar Gadhafi and should be considering one against Assad. Unfortunately, emotions are still running high in the Security Council after the US, France and Britain stretched the interpretation of resolution 1973, providing for the protection of civilians in Libya, to go after Gadhafi himself. That's why, despite the flight of Syrian refugees into Turkey, the Council is unlikely to act on Syria.
But under the statutes of the ICC, the court prosecutor too can initiate proceedings. What's keeping him? Amnesty International last week alleged that crimes against humanity have been committed in Syria, and Human Rights Watch said that those responsible should be prosecuted for the deliberate killing of peaceful protesters. Referral to the ICC would at least be a start in demonstrating to Assad that he can't get away with murder.
This error message is only visible to WordPress admins
Error: No connected account.
Please go to the Instagram Feed settings page to connect an account.