Aoun opposing renewal of Salameh's term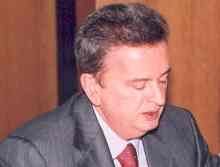 Cabinet sources old al Liwa newspaper that Free patriotic Movement MP Michel Aoun is opposing the renewal of the term of Central Bank governor Riad Salameh and instead want Alan Bifani, director general of the Finance Ministry to replace Salameh.
Salameh has been widely credited with steering a prudent monetary course during his time in office, especially during moments of national crisis. He also received acclaim for his policies averting financial catastrophe in Lebanon amid the Financial crisis of 2007–2010.