Jumblatt: We must forget justice for the sake of stability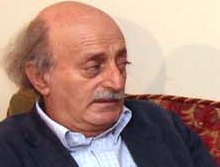 During an interview with MTV on Monday Progressive Socialist Party leader MP Walid Jumblatt denied that he has betrayed former slain Prime Minister Rafik Hariri.
" The new Angels ( a possible reference to March 14 leaders) are charging me of betraying Rafik Hariri… I did not betray Rafik Hariri and will not betray him . I speak as an observer. I am for justice and truth but in some cases,we must forget justice for the sake of stability." Jumblatt whose father was assassinated by the Syrians said
"My theory is that stability and justice should go together, because should justice lead to instability we would not be doing justice to Rafik Hariri," Jumblatt added.
He added: "I have not changed my position towards the Special Tribunal for Lebanon, but there is misunderstanding about this court. They say that it is not politicized , but since 2005 until this moment it is the focal point because the assassination of Hariri was political …the decision to establish the court took 7 minutes."
Jumblatt stressed that the new cabinet is committed to and respects international resolutions . He said there is a campaign aimed at stripping PM Nagib Mikati of his 'patriotism and Sunni identity'.
He cautioned his new allies about committing the" big mistake" of " cutting off funding for STL , severing relations with STL or withdrawing the Lebanese judges from STL
Addressing the controversial issue of Hezbollah's weapons, Jumblatt said: "The arms are a threat to Hezbollah, because you are telling a party and a major religious sect after all their suffering give me your arms ..as if they are a foreign body" . He added it is therefore their right to doubt the intentions of the court and the demands over disarming them". He said "let's give them the benefit of a doubt" adding "I strongly believe the only way to resolve all this doubt is through dialogue."
"If a certain group believes that Hezbollah might be involved in the assassination, we must talk with them and sit with them around the dialogue table," he said adding that he disagreed with Hezbollah chief 's statement that he won't allow the detention of his members in 300 years because of a plot against his party…Jumblatt suggested that Nasrallah should address the issue of Hariri's assassination directly with the Sunni majority because this issue is very sentimental for them"
Jumblatt stressed that " history has taught us that no party can eliminate its rivals in this country, no matter how strong it may be."
Commenting on the shift in his political alliances , Jumblatt said the thought of switching first came up on May 11, 2008 ( following the failed attempt by Hezbollah to occupy the Druze stronghold of Mt Lebanon ) but stressed that his new political alignment "spared the country a Druze-Shiite strife .
Jumblatt who was elected by March 14 voters during the 2009 elections defected officially from the March 14 (three months after the Der Spiegel report of May 2009 revealed that Hezbollah was behind Hariri's murder) for fear over a Shiite -Sunni strife if Hezbollah members were indicted by the STL. But the Sunnis of Lebanon have proved him wrong so far . Not one shot was heard , not one tire was burnt and not one road was blocked in the mainly Sunni areas of Beirut, Tripoli or Sidon and Lebanon maintained its calm since the indictment was announced .
The Special Tribunal for Lebanon issued the indictments in the assassination of Lebanon's former PM Hariri on June 30. An STL delegation met with Lebanon's state prosecutor Said Mirza and handed him a copy of the Lebanon portion of the indictment and the arrest warrants. Two of the suspects Mustafa Badreddine and Salim Ayyash are reportedly senior members of the Iranian and Syrian-backed Hezbollah while the other two Hassan Aneissy, also known as Hassan Issa, and Assad Sabra played a supporting role in the execution of the assassination
Hezbollah Secretary General Sayyed Hassan Nasrallah denounced on several occasions the court as a conspiracy by the U.S. and Israel and said last year that the group "will cut off the hand" of anyone who tries to arrest its party members linked to the February 14, 2005 bombing that killed Hariri and 22 others.
Lebanon has 30 days to find and arrest the suspects but Hezbollah chief Sayyed Hasan Nasrallah said on July 2 that the party would not cooperate with the tribunal.
"No Lebanese government will be able to carry out any arrests whether in 30 days, 30 years or even 300 years."