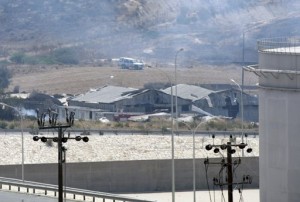 The defense minister of Cyprus and his army chief have both resigned in the wake of a powerful explosion at a military base near the southern Cypriot city of Limassol which left at least 12 people dead.
At least 12 people were killed in a massive explosion at a naval base in southern Cyprus on Monday. The blast occurred just before 6 a.m. local time.
More than 35 people were injured at the base, which is located near the town of Zygi. Homes in the nearby village of Mari were also severely damaged by the blast; the settlement, home to some 150 people, was evacuated.
Government spokesman Stefanos Stefanou said later on Monday that Defense Minister Costas Papacostas and army chief Petros Tsalikidis had both submitted their resignations, which Prime Minister Demetris Christofias had accepted.
The exact cause of the explosion has not been confirmed, but reports suggest that the blast occurred in a dump housing more than 98 containers of munitions that Cyprus had confiscated from a vessel heading to Syria from Iran in 2009. It is thought that bushfires may have spread to the area where the munitions were stored.
Extensive damage
Police closed the main road between the country's second-largest city, Limassol, and the capital, Nicosia, as thick clouds of smoke were seen rising from the base. State television broadcast images of damaged vehicles, twisted road signs and debris strewn across a nearby motorway.
The explosion also knocked out the island's largest electricity plant at Vassilikos, causing widespread power cuts. Cypriot officials urged islanders to limit their consumption of power and to use generators. They also appealed for people not to use air conditioning systems.
"The damage is extensive and of biblical proportions," said Trade Minister Antonis Pashalidis.
The intensity of the blast apparently blew out windows and doors in buildings three kilometers (two miles) away.
"There was a huge explosion, rather like a sonic boom with the wind and pressure of a bomb," said Hermes Soloman, who was in a camper van in a nearby holiday park when the explosion struck, told Deutsche Welle. "I only ended up with smashed doors and windows, and the side of the van remained intact."
Greece announced on Monday that it would send a team of explosives experts to Cyprus to help authorities ascertain the exact cause of the deadly explosions.