At least 11 killed in Iranian munitions blast in Cyprus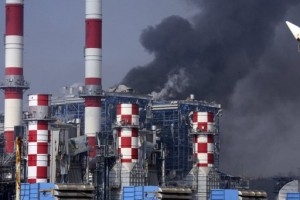 At least 11 people were killed and more than 50 injured on Monday when confiscated munitions exploded at a naval base in Cyprus, local radio stations said.
The blast knocked out the island's biggest power plant at Vassiliko next to the base, causing black-outs in the capital Nicosia and at dozens of tourist resorts.
A brushfire set off a series of explosions at a storage facility for about 90 twenty-foot equivalent units (TEUs) of containers holding munitions seized more than two years ago from an Iranian ship on its way to Syria.
A fire department official said crews responded to a call shortly before dawn that said the fire had reached the base and was close to the containers.
The blast damaged homes in villages around the base at Zygi on the southern coast and blew out windows of hotels and beachside restaurants. Thick smoke hung over a wide area, witnesses said.
"The [base] area looks like a battlefield . . . there were metal fragments flying everywhere," said Michalis Papadimitriou, mayor of Zygi.
The defence ministry did not give an official casualty figure, but local radio stations said five firefighters, two sailors and four conscripts serving at the base were among the dead.
Demetris Christofias, the Cyprus president, said: "This is a black day for Cyprus, because of the terrible losses and injuries sustained."
Nikos Anastasiades, an opposition political leader, said after visiting the base: "There were very few precautions taken . . . The containers had been stored near dry bushes, and the base commander had repeatedly asked for them to be removed."
The fire department warned last week that the containers were in poor condition, increasing the danger of an explosion as temperatures rose above 40C.
Cyprus state radio said that Costas Papacostas, the defence minister, and Petros Tsalikides, the armed forces chief, had both resigned.
A water board official said the blast had knocked out all three desalination plants that provide summer water supplies and warned that shortages were likely.
The munitions were confiscated from the Monchegorsk, a Cypriot-flag ship intercepted off the island in January 2009 and stored at the base a month later.
The Cyprus government said it had responded to a US request, as the ship was violating international sanctions against Iran.