MP Habib slams Karami over STL statement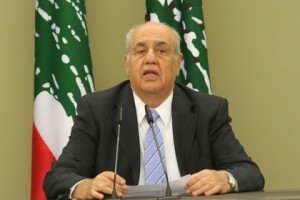 MP Farid Habib who represents the Lebanese Forces in the parliament slammed on Sunday Sports and Youth Minister Faisal Karami's statement over STL in which he reportedly said "a convicted criminal… is lecturing shamelessly about justice," a reference to LF leader Samir Geagea.
"It is not strange that a minister in Hezbollah's cabinet…is targeting Geagea," National News Agency quoted Habib as saying.
Karami slammed the Special Tribunal for Lebanon (STL) , stressing that no tribunal will be able to carry out its investigations without a unanimous agreement on its credibility, professionalism and neutrality.
"The national consensus on the tribunal was gone since long time ago due to a series of mistakes and a behavior that didn't comply with the minimum reputable standards," Karami said during a dinner in honor of Arab Union Lawyers delegations on Friday
Habib also said that Karami is taking the initiative to satisfy Hezbollah and Syria "to pay the bill" for being appointed a minister.
"One of Karami's assigned tasks is to target the LF and the Special Tribunal for Lebanon … in an attempt to show that not only Hezbollah wants to cancel the tribunal."
Karami was appointed as a minister in the cabinet after Hezbollah insisted on including him and after Speaker nabih Berri agreed to sacrifice one of the Shiite seats in Karami's favor . Karami is a Sunni and there are 7 Sunnis in the cabinet versus 5 Shiites.
During a press conference in Tripoli last month Maan Karami, brother of former Prime Minister Omar Karami, said that the Karami family does not accept "charity" from anyone in Lebanon and is not honored for being represented by his nephew Faisal Karami
Hezbollah brought down PM Saad Hariri's government on January 12 over the Special Tribunal for Lebanon's ( STL) indictment which was widely expected to implicate Hezbollah members in the assassination of former PM Rafik Hariri in 2005.
The Special Tribunal for Lebanon issued the indictments in the assassination of Lebanon's former PM Hariri on June 30. An STL delegation met with Lebanon's state prosecutor Said Mirza and handed him a copy of the Lebanon portion of the indictment and the arrest warrants. Two of the suspects Mustafa Badreddine and Salim Ayyash are reportedly senior members of the Iranian and Syrian-backed Hezbollah while the other two Hassan Aneissy, also known as Hassan Issa, and Assad Sabra played a supporting role in the execution of the assassination.