US summons Syrian ambassador over 'protest filming'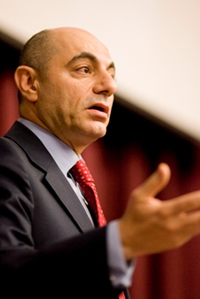 The US State Department has summoned Syria's ambassador after receiving reports of Syrian diplomats filming people protesting peacefully in the US.
Imad Mustapha was told of "a number of US concerns" involving embassy staff, the State Department said.
The US says it is also investigating reports that Damascus may have acted against protesters' families in Syria.
Meanwhile, it has rejected a Syrian claim that the US ambassador has been inciting protests in the city of Hama.
The State Department said Ambassador Robert Ford had gone to Hama to show solidarity with the Syrian people and the protesters he met were friendly and peaceful.
Thousands of people across Syria joined renewed demonstrations against President Bashar al-Assad on Friday and at least 14 people were reported killed.
'Retribution' concerns
The Syrian ambassador was summoned to the US State Department by Assistant Secretary for Diplomatic Security Eric Boswell on Wednesday, a statement said.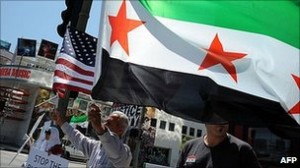 "We received reports that Syrian mission personnel under Ambassador Mustapha's authority have been conducting video and photographic surveillance of people participating in peaceful demonstrations in the United States," a spokesman told a White House press briefing on Friday.
"The United States government takes very seriously reports of any foreign government actions attempting to intimidate individuals in the United States who are exercising their lawful right to freedom of speech as protected by the US Constitution.
"We are also investigating reports that the Syrian government has sought retribution against Syrian family members for the actions of their relatives in the United States exercising their lawful rights in this country and will respond accordingly."
Syria condemned Ambassador Ford's visit to the restive central city of Hama as proof that Washington was inciting unrest across Syria.
The interior ministry said Mr Ford had met "saboteurs and incited them to violence, protest and rejection of dialogue".
Mr Ford and French ambassador Eric Chevallier travelled to Hama on Thursday to show solidarity with demonstrators, but left before Friday's protests began, according to officials in Washington and Paris.
US State Department spokesman Victoria Nuland said Mr Ford had been welcomed with flowers and olive branches by protesters.
"When he got into the city the car was immediately surrounded by friendly protesters who were putting flowers on the windshields, they were putting olive branches on the car, they were chanting 'down with the regime'," she said.
Tanks were deployed outside Hama last weekend after the city witnessed the largest protest since anti-government demonstrations began in March.
At least 22 people in Hama have since been killed by security forces. Many families have fled the city fearing a government crackdown.
Protesters on Friday signalled their rejection of the government's proposed national dialogue conference on Sunday.
Hama was the scene of a brutal crackdown in 1982 ordered by Hafez al-Assad, President Assad's father, which left at least 10,000 people dead.
BBC