Harb tells Mikati:You will be hostage of the Hezbollah dictatorship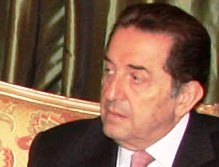 "You will suffer during every cabinet session and during the discussion of every issue and you will regret accepting to become a hostage of (a government) capable of imposing its view on you," MP Boutros Harb told Prime Minister Najib Mikati adding: "The country will pay the price because it will turn into a dictatorship."
Harb made the statement Thursday during the third day of the parliament session which is aimed at discussing the ministerial statement
MP Harb said that "the parties in the government are not coherent, and Hezbollah tried to put forward names that were initially refused by Mikati and President Michel Suleiman."
Harb said "he is sorry that Mikati put himself in the position of a hostage who accepts being imprisoned and is under the impression that this prison is a golden castle."
Harb commended the form of the new government that "reinforces the principle of devolution of power."
"I have always called for devolution of power, represented by a majority that rules and a minority that opposes." He added.
"We adopted this position against the government because of the circumstances and the 'black practices' that came along with its formation and because of the ministerial statement's content," he added.
"Why do you think we adopted an opposing stance against the government even before it started its work?" Harb inquired. He answered saying that "the way the government was formed indicates that it is corrupt, and the new majority expressed its opposing stance against the STL in advance."
Regarding the ministerial statement Harb said "it is ambiguous; it is void of any commitments."
"Moreover, it is the government's duty to follow up on the Tribunal but it also is its duty to commit to cooperating so as to reach the truth," he added.
As for the indictment issued by the Special Tribunal for Lebanon (STL), Harb said "we are against accusing any innocent person, and if the indicted people turned out to be innocent we will stand by them."
Harb also said he was surprised by the removal of "Lebanon's independence" from the clause on Syrian-Lebanese relations in the policy statement. He also expressed surprise at the removal of "the control of the border between Lebanon and Syria" from the statement.
This is the clause pertaining to the Special Tribunal for Lebanon in the ministerial statement:
14. Our government respects international resolutions, thus it is keen to reveal and expose the truth regarding the crime of the assassination of martyr Prime Minister Rafik Hariri and his companions. The government will follow the progress of the Special Tribunal for Lebanon which was initially established to achieve righteousness and justice, without politicization or revenge, and without any negative impact on Lebanon's stability, unity and civil peace.
This is the clause pertaining to the Lebanese Syrian relations
5. The government notes the development that has been achieved in Syrian-Lebanese ties through reciprocal diplomatic missions and stressed its adherence to implementing the Taif Accord, which stated the establishment of special relations between Lebanon and Syria, and the government will work so that relations between the two reach the level that reflects the depth of historical ties and the mutual interests between the two peoples in a framework of trust, equality and mutual respect. The government will work to complete bilateral agreements as well as look into mutual subjects that have as yet not been resolved despite the will of both countries to overcome obstacles.