Patriarch Rai: Lebanon is divided, needs a new 'National Pact'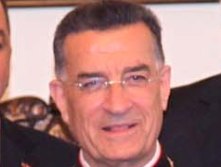 During to a visit to Batroun in north Lebanon on Sunday , Maronite Patriarch Beshara al-Rai on Sunday said Lebanon needs "a new mentality, a new vision and a democratic rhetoric," .
The Patriarch said " we will not allow anyone to decide our fate " , admitted Lebanon is divided between two rival political camps and called for a new "social contract based on our (1943) National Pact".
The National Pact is an unwritten agreement that laid the foundation of Lebanon as a multi-confessional state, and has shaped the country to this day. Following negotiations between the Shi'ite, Sunni, and Maronite leaderships, the National Pact was born in the summer of 1943 allowing Lebanon to be independent.
The patriarch , who met with MP Samer Saade, MP Boutros Harb's representative George Harb and a number of political figures said "Those who came before us had paid a heavy price " adding "Lebanon is a factor of stability."
His comments come after Hezbollah chief Sayyed Hasan Nasrallah said Saturday that members of his group indicted by the STL were unjustly accused, reiterating that the resistance would not cooperate with the tribunal.
The STL confirmed the indictments in the assassination of Lebanon's former PM Hariri on Thursday. An STL delegation met with Lebanon's state prosecutor Said Mirza on Thursday and handed him a copy of the Lebanon portion of the indictment and the arrest warrants. Two of the suspects Mustafa Badreddine and Salim Ayyash are reportedly senior members of the Iranian and Syrian-backed Hezbollah while the other two Hezbollah members Hassan Aneissy, also known as Hassan Issa, and Assad Sabra played a supporting role in the execution of the assassination.
Lebanon has 30 days to find and arrest the suspects but Nasrallah said last night:
"No Lebanese government will be able to carry out any arrests whether in 30 days, 30 years or even 300 years."
"We reject the Special Tribunal for Lebanon along with each and every void accusation it issues, which to us is the equivalent of an attack against Hezbollah," Nasrallah added in his hour-long speech.
Nasrallah admitted all the four suspects are Hezbollah members:
"The suspects named in the indictment are brothers who have an honorable history in resisting Israeli occupation." He said
The whereabouts of the four remain unknown but some reports indicated that the two prime suspects in the assassination already fled to Iran.