MP urges Hezbollah ministers to quit over STL indictment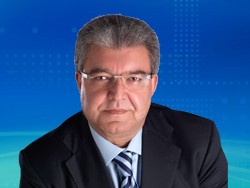 March 14 MP Nuhad al-Mashnouq called on Hezbollah ministers to step down from the cabinet until the truth is revealed due to the conflict of interest
"A cabinet cannot achieve justice when some of its ministers belong to a party whose members are accused in the 2005 assassination of former Prime Minister Rafik Hariri," National News Agency quoted him as saying.
"This cabinet cannot implement the UN Security Council Resolution [1757] if Hezbollah's ministers do not step down," Mashnouq added, in a reference to the Special Tribunal for Lebanon (STL).
Mashnouq criticized the ministerial statement calling it an assault against Rafik Hariri and all the martyrs .
Mashnouq also accused PM Najib Mikati and Progressive Socialist Party leader MP Walid Jumblatt of being part of the coup against the state "disregarding those who voted for them." A possible reference to the fact that Jumblatt and Mikati and their parliamentary blocs that helped Hezbollah get the upper hand in Lebanon were elected by the March 14 voters.
Mashnouq' s comments come after Hezbollah chief Sayyed Hasan Nasrallah said Saturday that members of his group indicted by the STL were unjustly accused, reiterating that the resistance would not cooperate with the tribunal.
The STL confirmed the indictments in the assassination of Lebanon's former PM Hariri on Thursday. An STL delegation met with Lebanon's state prosecutor Said Mirza on Thursday and handed him a copy of the Lebanon portion of the indictment and the arrest warrants. Two of the suspects Mustafa Badreddine and Salim Ayyash are reportedly senior members of the Iranian and Syrian-backed Hezbollah while the other two Hezbollah members Hassan Aneissy, also known as Hassan Issa, and Assad Sabra played a supporting role in the execution of the assassination.
Lebanon has 30 days to find and arrest the suspects but Nasrallah said last night:
"No Lebanese government will be able to carry out any arrests whether in 30 days, 30 years or even 300 years."
"We reject the Special Tribunal for Lebanon along with each and every void accusation it issues, which to us is the equivalent of an attack against Hezbollah," Nasrallah added in his hour-long speech.
Nasrallah admitted all the four suspects are Hezbollah members:
"The suspects named in the indictment are brothers who have an honorable history in resisting Israeli occupation." He said
The whereabouts of the four remain unknown but some reports indicated that the two prime suspects in the assassination already fled to Iran.