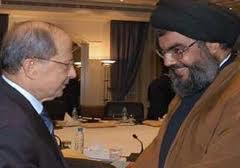 Free patriotic Movement leader , Hezbollah's main Christian ally MP Michel Aoun said on Saturday that Hezbollah Secretary General Sayyed Hassan Nasrallah "has won the battle" against the Special tribunal for Lebanon
"Sayyed Nasrallah has won the battle, because according to his speech STL will not issue a fair verdict," Aoun told Al-Manar television shortly after Nasrallah ruled out the arrest of the four party members indicted by the Special Tribunal for Lebanon in the assassination of Lebanon's former prime minister Rafik Hariri.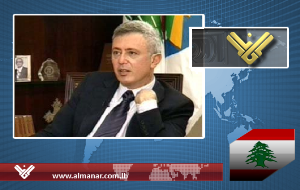 Similarly Marada Movement leader MP Suleiman Franjieh, a staunch supporter of Syria voiced support for Hezbollah's position regarding STL.
"We were and are still willing to fight all the tribunals and the entire world, and we stand behind the Resistance because we are doing so out of our conviction," Franjieh also told Al-Manar television, shortly after Nasrallah's televized speech
Franjie said that "Hezbollah is strong and does not need strife to prove its existence."
Franjieh also said that "the goals of the STL were known from the beginning," adding that "some parties benefit from sparking a conflict in Lebanon."
The STL issued the indictments in the assassination of Lebanon's former PM Hariri on Thursday. An STL delegation met with Lebanon's state prosecutor Said Mirza on Thursday and handed him a copy of the Lebanon portion of the indictment and the arrest warrants. Two of the suspects Mustafa Badreddine and Salim Ayyash are reportedly senior members of the Iranian and Syrian-backed Hezbollah while the other two Hassan Aneissy, also known as Hassan Issa, and Assad Sabra played a supporting role in the execution of the assassination.
Nasrallah admitted all the four suspects are Hezbollah members
"The suspects named in the indictment are brothers who have an honorable history in resisting Israeli occupation." He said
"No Lebanese government will be able to carry out any arrests whether in 30 days, 30 years or even 300 years," said the Shiite leader whose group dominates the current government.