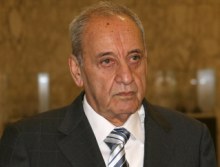 Speaker Nabih Berri said in an interview published on Sunday that the comments of most March 14 leaders over the Special Tribunal for Lebanon's (STL) indictment "were within reason ," adding that he expects "more accusations to be made in the coming days."
The speaker also praised the reaction of the Sunnis, saying "the residents of Tariq al-Jadida in the capital don't pay attention to extremist voices coming from any side."
He also praised the reaction of the Shiites , saying "Shiites proved their commitment to the instructions of the political and religious leaderships and were not shocked by the accusations against the four people."
Berri said Beirut was as calm as Norway's capital Oslo when STL handed Lebanon's state prosecutor Said Mirza a copy of the indictment in former PM Rafik Hariri's assassination .
"Things remained normal in (Beirut's) southern suburbs and the fireworks were only aimed at celebrating the success of some students in official exams," Berri said.
Berri told An-Nahar newspaper that the timing of submitting the indictment to Lebanon was aimed at pressuring Prime Minister Najib Mikati's cabinet and to take advantage of the crisis in Syria adding that the indictment gave fresh impetus to the March 14 coalition in its battle against the government.
When told that the opposition was gearing up to turn the parliamentary sessions to discuss the cabinet's policy statement into a heated debate next week, Berri said: "Parliament is the natural place for discussions and political reactions. It will regain its usual vitality."
The STL confirmed the indictments in the assassination of Lebanon's former PM Hariri on Thursday. An STL delegation met with Lebanon's state prosecutor Said Mirza on Thursday and handed him a copy of the Lebanon portion of the indictment and the arrest warrants. Two of the suspects Mustafa Badreddine and Salim Ayyash are reportedly senior members of the Iranian and Syrian-backed Hezbollah while the other two Hezbollah members Hassan Aneissy, also known as Hassan Issa, and Assad Sabra played a supporting role in the execution of the assassination.
Lebanon has 30 days to find and arrest the suspects but Hezbollah chief Sayyed Hassan Nasrallah ruled out on Saturday the arrest of any of the four members of his group .
"No Lebanese government will be able to carry out any arrests whether in 30 days, 30 years or even 300 years," said the Shiite leader whose group dominates the current government.
"We reject the Special Tribunal for Lebanon along with each and every void accusation it issues, which to us is the equivalent of an attack against Hezbollah," Nasrallah added in his hour-long speech.
Nasrallah admitted all the four suspects are Hezbollah members:
"The suspects named in the indictment are brothers who have an honorable history in resisting Israeli occupation." He said