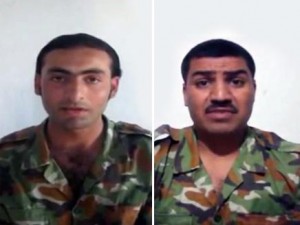 Two Syrian soldiers defected from the army on Friday as more than 24 protestors were shot dead by security forces , Al-Arabiya television reported.
"Captain Mohammad Harmouche and Captain Mouhaymen al-Tai announced that they defected from the Syrian army," the report said.
"Harmouche announced that he joined a 'Brigade of free soldiers' in protest against the army's use of brutal means to crackdown on civilian protestors," the report added.
It added that Tai slammed Syrian President Bashar al-Assad and said that his ruling regime "is corrupt."
Ali Ahmadi a Syrian opposition activist based in London and who is the editor in chief of "Syrians.Net"described the defection as a patriotic move because he said the officers refused to participate in the killing of civilians and committing massacres."
" The Syrian army is deploying its tanks in the streets of the Syrian cities, after leaving the front of the occupied Golan ( Heights) very quiet for nearly forty years."
The Syrian government is engaged in a deadly crackdown on protesters who since March have been demanding the end of 48 years of rule by the Baath Party, which is controlled by Assad. Over 1500 civilians have been killed , 0ver 8000 have been wounded and over 10000 have been arrested.
Al Arabiya