Arslan officially resigns from cabinet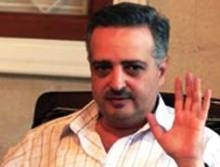 LBC reported that PM Nagib Mikati has received in writing the resignation of state minister Talal Arslan from the cabinet . The matter will be discussed between Mikati and president Michel Suleiman on Monday , LBC added
Arslan announced verbally his resignation during a press conference on June 13 , hours after Mikati announced the formation of the cabinet. He accused Mikati of lying and causing a rift between him , MP Walid Jumblatt and MP Michel Aoun.
Ever since Mikati was appointed as PM Designate , Arslan was always insisting on being allocated a ministerial portfolio , but instead he was assigned a ministry of state . Ministries of state are usually used as a filler to complete the lineup of the cabinet.
Arslan who later apologized said "Mikati lied to all the Lebanese and caused rifts between many people , he thinks he is the smartest and this is something we cannot accept". He added :" I have lost all confidence in Mikati and his abilities to seriously run the country".
Arslan's brother-in-law, Marwan Kheireddine, will most probably replace Arslan as minister of state, according to Lebanese Democratic Party media adviser Salim Hamadeh