Jumblatt said strife will not erupt in Lebanon over STL indictment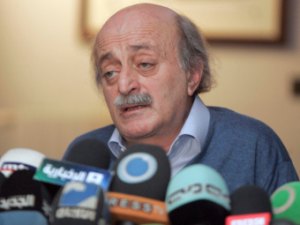 Commenting on the release of the indictments by Special Tribunal for Lebanon ( STL) in the assassination of former PM Rafik Hariri Progressive Socialist Party leader MP Walid Jumblatt said "Stability and civil peace are just as important as justice."
Jumblatt questioned the timing of the indictment :
"The decision to release the indictment was political. Its contents are similar to the media leaks that had been revealed in the past, requiring us to exercise vigilance in this phase in Lebanon. "
The media leaks he is referring to is the report by the German magazine Der Spiegel in May 2009 in which it revealed for the first time the involvement of Hezbollah in the Hariri murder .
Jumblatt defected from the March 14 in August 2009 , three months after the Der Spiegel report was published reportedly for fear over a Shiite-Sunni strife if Hezbollah members were indicted by the STL, but the Sunnis of Lebanon proved him wrong . Not one shot was heard , not one tire was burnt and not one road was blocked in the mainly Sunni areas of Beirut, Tripoli or Sidon and Lebanon maintained its calm even though cautious tension abounds .
Jumblatt called today on all political parties to avoid increasing tension, adding that the cabinet, judicial authorities and security forces should be left to perform their duties.
"Let former PM Rafik Hariri's statement that says 'no one is greater than their country 'act as the slogan for the upcoming phase in Lebanon, Jumblatt told reporters stressing that the slain former PM was concerned about Lebanon's stability.
Jumblatt said strife will not erupt in Lebanon and dialogue is the key to resolving disputes.
"I think my message that political rhetoric should be wise is clear. We should not transform Lebanon into an arena to settle regional and international accounts." He said
Jumblatt stressed that STL accusations are against individuals and not an indictment against a party or sect. A possible refrence to Hezbollah and its Shiite sect.
The Special Tribunal for Lebanon issued the indictments in the assassination of Lebanon's former PM Rafik Hariri . An STL delegation met with Lebanon's state prosecutor Said Mirza on Thursday and handed him a copy of the Lebanon portion of the indictment . Two of the suspects Mustafa Badreddine and Salim Ayyash are reportedly senior members of the Iranian and Syrian-backed Hezbollah.