Hezbollah chief 'not concerned' over STL indictments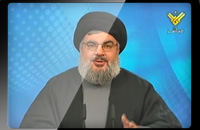 Hezbollah Secretary General Sayyed Hassan Nasrallah will announce on Saturday during a TV appearance via video link that his party "is not concerned" with the Special Tribunal for Lebanon (STL)'s indictment that reportedly named four Hezbollah members for the 2005 assassination of former Prime Minister Rafik Hariri, an unnamed source close to the Shiite party said on Friday .
"Nasrallah will announce in his upcoming speech that his party is not concerned with the court's indictment," the source was quoted as saying by Central News Agency ( CNA) on Friday.
The Hezbollah chief will focus on "calming down" the situation in Lebanon and will stress on "preserving domestic stability," the source added. However, it did not elaborate further.
Other sources told Asharq al-Awsat in remarks published on Friday that the court is "politicized and used by the United States to serve the Jewish state."
The sources added : Unlike what is being reported, the four members do not have leadership positions. in Hezbollah.
The Special Tribunal for Lebanon issued the indictments in the assassination of Lebanon's former PM Rafik Hariri on Thursday. An STL delegation met with Lebanon's state prosecutor Said Mirza on Thursday and handed him a copy of the Lebanon portion of the indictment and the arrest warrants. Two of the suspects Mustafa Badreddine and Salim Ayyash are reportedly senior members of the Iranian and Syrian-backed Hezbollah while the other two Hassan Aneissy, also known as Hassan Issa, and Assad Sabra played a supporting role in the execution of the assassination
Nasrallah denounced on several occasions the court as a conspiracy by the U.S. and Israel and said last year that the group "will cut off the hand" of anyone who tries to arrest its party members linked to the February 14, 2005 bombing that killed Hariri and 22 others.