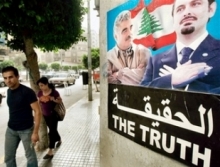 Future Movement, which is headed by former PM Saad Hariri , son of the slain former PM Rafik Hariri issued a statement on Thursday following the release of the Special Tribunal for Lebanon's ( STL) indictment of Hezbollah members in Hariri's murder in which it called on the cabinet to bear its responsibilities by cooperating fully with the STL.
The movement's Secretary General Ahmad Hariri said the release of the indictment is a new phase in the "STL's path of justice," and rejected any attempt by the cabinet to evade its responsibilities regarding the issue.
"What is required is a courageous, clear stance that protects justice and improves the tribunal's path," Hariri said.
He also said that the cabinet is responsible for taking the required measures to achieve justice and carry out the implementation of the arrest warrants submitted earlier today by the STL.
"The responsibility of achieving justice is that of the prime minister, the justice minister and all other relevant bodies. The president also has a national and constitutional responsibility to bear."
The STL said in a statement published on its website that the indictment and accompanying arrest warrants were transmitted to the Lebanese authorities on Thursday.
Ahmad Hariri's comments came after Lebanese officials said the STL, based near The Hague, submitted to Prosecutor General Saeed Mirza an indictment and arrest warrants to the country's prosecutor general in his father's case.
4 Members of the powerful Hezbollah were indicted in the killing