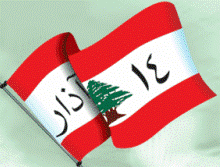 March 14 General Secretariat warned the cabinet on Thursday of not carrying out its responsibilities regarding the Special Tribunal for Lebanon urging it to cooperate directly with the tribunal's demands.
The warning comes after Tribunal issued its indictment and after the cabinet issued its clause pertaining to the tribunal.
Special Tribunal for Lebanon's ( STL) released the indictment of Hezbollah members in the murder of Lebanon's former PM Hariri. Lebanese officials said the STL, based near The Hague, submitted to Prosecutor General Saeed Mirza an indictment and arrest warrants .
The STL clause in the ministerial statement of Najib Mikati's cabinet states the following :
"The cabinet assures it will respect international resolutions and continue the path of the tribunal that was established to achieve justice and righteousness away from politicization and in a way that does not harm Lebanon's stability and unity,"
Does achieving justice harm Lebanon's stability and unity?" asked the Lebanese Forces leader Samir Geagea on Thursday
March 14 said said that the ministerial statement's "vague" STL clause is rejected, and will not succeed in "tricking" the STL and the international community.
March 14 added that the ministerial statement's STL clause includes an "alleged protection" of stability, adding that only justice protects stability.
"In order for justice to achieve its aims, it should not be placed in a confrontation with a local party, adding that justice targets individuals and not parties."
March 14 also said that an indictment should not be confused with a judicial verdict issued at the end of a trial.
"The STL's indictment is a historical achievement in Lebanon. March 14 considers that Lebanon has entered an important turning point due to the release of the indictment ."
It added that it will follow up with stances and actions related to the tribunal's indictment, adding that it will place itself in a position that monitors authority and acts accordingly.