Hariri says STL indictment is a 'historic moment' for all Lebanese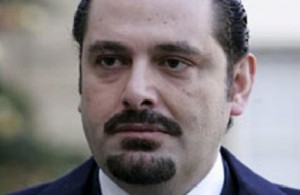 Former prime minister and current Lebanese opposition leader MP Saad Hariri, son of assassinated former PM Rafik Hariri, hailed on Thursday the release of a UN indictment in his father's 2005 murder as a hard-won "historic moment " for Justice
"Together we witness a historical moment in Lebanon's political, judicial, security and ethical life," Hariri said, according to a statement issued by his office.
"We have struggled together for this historical moment…I feel my heartbeats embracing the hearts of all the Lebanese who defended the cause of justice and refused to compromise on the blood of the martyrs," Hariri added.
He said that the progress in the work of the Special Tribunal for Lebanon (STL) is "for all the Lebanese without exception."
"This progress should be the turning point in the history of the fight against political organized crimes in Lebanon and in the Arab world."
Hariri thanked the relevant bodies that "contributed to the investigation of crimes that targeted Lebanese figures."
He warned against obstructing the probe of the STL, urging the newly-formed Lebanese cabinet to "fully cooperate" with the court.
"The end of the era of killings has begun…[and the martyrs'] blood will not go to waste," Hariri said.
He ended the statement by saying:
"May God have mercy upon you for what you have given to Lebanon and all the Lebanese, and May Allah bless you with heaven."
"Long live the martyrs of Lebanon. Long live justice. Long live Lebanon."
Hariri's comments came after Lebanese officials said the STL, based near The Hague, submitted to Prosecutor General Saeed Mirza an indictment and arrest warrants to the country's prosecutor general in his father's case.
4 Members of the powerful Hezbollah were indicted in the killing
anon."