Putin: Russian 2012 election will be dirty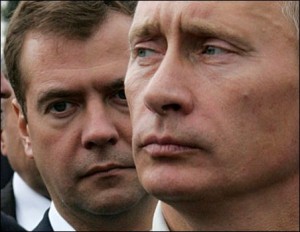 Russian Prime Minister Vladimir Putin warned on Thursday that the March 2012 presidential election campaign would be dirty, but stopped short of saying whether he would seek another stint as Kremlin chief.
Putin, Russia's most popular politician, made clear he would play a significant role in the election but told supporters he would need to cleanse politics after the campaign.
"I shall go to wash, in the hygienic sense of the word but also in the political sense," Putin said, when asked at a regional conference of his ruling United Russia party what he would do the day after the March presidential election.
"After all the campaigns which we shall have to endure, you have to be properly hygienic. Unfortunately, this is an inevitable process," he said.
"As Churchill said: Democracy is the worst form of government but there is no better one," Putin said in the Urals city of Yekaterinburg.
Putin and his protege, President Dmitry Medvedev, have both repeatedly refused to say which of them will run in the March 2012 presidential election, which follows a parliamentary election in December.