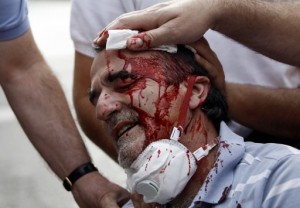 Greek police firing tear gas fought running battles with stone-throwing protesters outside parliament on Wednesday as signs grew the government would succeed in pushing through an austerity plan demanded by creditors.
With Greece risking bankruptcy if the measures are blocked, parliament was due to vote in the afternoon on the mix of spending cuts, tax increases and privatizations to be implemented as conditions for a massive bailout by the European Union and the International Monetary Fund.
Tens of thousands of protesters, many of them waving Greek flags and beating drums, packed Syntagma Square outside parliament as a 48-hour general strike that began on Tuesday brought central Athens to a standstill.
"Dissolve parliament," read one banner.
Demonstrations turned violent for a second day when a surge in the crowd overturned metal barriers, forcing back a line of riot police, who responded with flash bombs and tear gas.
"Cops, pigs, murderers!" chanted the crowd at a line of white-helmeted riot police as tear gas projectiles turned the air outside parliament white. A line of protesters joined hands in a traditional Greek dance in front of police lines.
Inside parliament, the government of Socialist Prime Minister George Papandreou inched closer to securing the majority it needs to pass the law as a member of the conservative opposition said she would vote for the 28 billion euro ($39.7 billion) package.
Late on Tuesday, one of three rebel Socialist (PASOK) lawmakers climbed down, saying he would support the measures.
"I have made the decision to vote for the plan because national interests are more important than our own dignity," the deputy, Thomas Robopoulos, told Reuters.
A parliamentary official said the vote would probably take place between 2 and 5 p.m. (1100-1400 GMT).
One communist deputy was pelted with yoghurt as protesters tried to block several avenues around parliament to prevent the vote. At least three people were treated for minor injuries as protesters skirmished with police.
The communist-affiliated PAME labor group held a rally in the morning and several other meetings were expected during the day, culminating in a major demonstration by public service union ADEDY and private sector union GSEE at 7 p.m. (1600 GMT).
Greece's central bank governor, George Provopoulos, warned that a "no" vote would be suicidal for Greece.
"For parliament to vote against this package would be a crime – the country would be voting for its suicide," he told the Financial Times.
BITTER RESENTMENT
The measures demanded by international lenders as the price for continuing to support Athens have wrought bitter resentment in a Greek population coping with the deepest recession since the 1970s and now facing years of grim austerity.
Another PASOK rebel, Panagiotis Kouroublis, said he still objected to the plan but declined to say whether he would vote against it. "I will speak to the parliament later and you will hear what I have to say," he told Alter TV. "Nothing is more important than my dignity and my love for my country."
The Socialists hold a narrow majority with 155 seats in the 300-member legislature and with Robopoulos, the most prominent of a handful of potential rebels, backtracking on his opposition, chances of the vote going through improved.
In a sign of growing optimism on financial markets about the outcome, Greek bank stocks opened up 3 percent on Wednesday, while Greek bond yields fell.
However, even with approval on Wednesday, there will still be a risk of lawmakers rejecting detailed austerity bills in votes on Thursday on the implementation of different elements of the plan, such as tax rises and the sale of state assets.
"Will there be a way to compensate households for the heating fuel increase? Will there be exemptions for agriculture to help it be competitive? I am waiting for answers to see what I will do in the implementation law," said Socialist MP Mihalis Tzelepis, reflecting the anger within the party.
The EU and the IMF have said the entire plan must be passed this week for Greece to obtain the next, 12 billion euro ($17.3 billion) tranche of emergency loans under the bailout.
Greek officials have said the country needs the money by mid-July to continue paying its debts.
Despite heavy international pressure, the center-right opposition declared it would vote against the package but close attention was being paid to a splinter group of conservative deputies led by former foreign minister Dora Bakoyanis.
Bakoyanis, who broke party ranks to vote in favor of Greece's first EU/IMF bailout last year, said on Wednesday she would abstain from voting this time. The other four deputies in her group would vote according to their consciences.
"The government cannot govern and apply the program and the political opposition is lying, this is the problem. It does not dare to tell people that there are no magic solutions, that sacrifices are necessary," Bakoyanis said.