One of Hezbollah suspects in Hariri's murder is also a U.S. citizen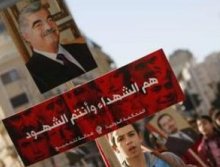 Salim al-Ayyash , also known as "Abu Salim," is one of the four suspects named by the Special Tribunal for Lebanon in its indictment of Hezbollah members in the murder of Lebanon's former PM Rafik hariri who was assassinated on feb 14, 2005 in Beirut
Ayyash 48, is reportedly a dual citizen . He was born in south Lebanon but also acquired a U.S. passport. Confirmed details of how he acquired US citizenship were not available .
Ayyash, is also a member of Hezbollah which the United States considers terrorist organization.
In addition to Ayyash 3 other Hezbollah members were indicted : Mustafa Badreddine, Hasan Aineysseh and Assad Sabra .
While Badreddine appears to be the prime suspect for masterminding the assassination of Hariri , Ayyash is reportedly accused of leading the cell which executed the assassination. Ayyash was reportedly helped by Hassan Aineysseh and Assad Sabra in Hariri's murder.
Ayyash is considered a hero in Hezbollah party circles for his role in the 2006 war between Hezbollah and Israel, when he was among the leaders who helped repel the Israeli advance across southern Lebanon.
The Special Tribunal for Lebanon's ( STL) released on Thursday the indictment of Hezbollah members in the murder of former PM Hariri. Lebanese officials said the STL, based near The Hague, submitted to Prosecutor General Saeed Mirza an indictment and arrest warrants .
So far there has been no official comment by US officials about Ayyash and whether he is still considered a US citizen
Lebanese Prime Minister Najib Mikati was quoted as saying Lebanon needed to "act responsibly" to ensure stability was maintained in the country following the indictment.
Mikati was able to form a new government after Hezbollah in January brought about the collapse of the administration of Saad Hariri, son of the slain prime minister. Hezbollah was upset with Hariri's support for the tribunal.
The implication of the Iranian and Syrian -backed Shiite Hezbollah — the dominant player in Lebanon's new government threatens to reawaken sectarian discord throughout the country.