Siniora: No one knows exactly when STL will release the Indictment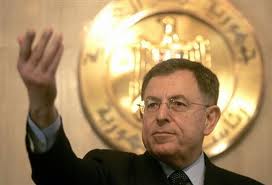 Former Lebanese PM and current leader of the Future Movement parliamentary bloc, said on Wednesday that "no one can assert with certainty the actual date of the announcement of the indictment by the Special Tribunal for Lebanon in the case of the 2005 assassination of Lebanon's former former PM Rafik Hariri
Following talks in Cairo with Egyptian Prime Minister Essam Sharaf and outgoing Arab League chief Amr Moussa, Siniora denied the reports that the timing of the release of the indictment is aimed at "challenging the current government or embarrassing it regarding the issue of the ministerial Policy Statement."
Responding to a question about the purpose of STL , Siniora said "It was necessary to refer this case to the international judiciary in order to stop the killings in Lebanon. Thus, we must address this issue in spite of what may be raised concerning the status of the Policy Statement."
Siniora arrived in Cairo Wednesday morning to participate in an international forum organized "in support of Jerusalem and Palestine," National News Agency reported.
The Iranian- and Syrian-backed Hezbollah brought down PM Saad Hariri's government on January 12 over the Special Tribunal for Lebanon's imminent indictment which is widely expected to implicate Hezbollah members in the assassination of former PM Rafik Hariri in 2005.
Mikati was appointed in January as the PM designate with the backing of the Hezbollah March 8 alliance and MPs Walid Jumblatt and Mohammad Safadi . March 14 leaders have repeatedly said that intimidation from Hezbollah's weapons helped secure the parliamentary majority for Mikati's nomination and refused to join the government.
The issue of the Special Tribunal for Lebanon delayed the drafting of the ministerial policy statement of the new cabinet but efforts to bridge the gap between Hezbollah and Prime minister Mikati have reportedly been successful according to al Manar TV and a copy of the statement was circulated to the cabinet this afternoon
The Special Tribunal for Lebanon , an international tribunal was created for the prosecution of those responsible for former PM Rafik Hariri's assassination . Hariri was assassinated on on February 14, 2005. The tribunal also has jurisdiction over a series of other attacks in Lebanon (between 1 October 2004 and 12 December 2005) if they are proven to be connected with the Hariri assassination. The court is based in Leidschendam, near The Hague, in the Netherlands and it has a field office in the Lebanese capital Beirut.