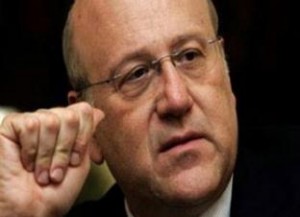 Hezbollah's Al-Manar TV reported on Wednesday that the ministerial committee charged with formulating the ministerial policy statement has completed its task , adding that a copy of the proposed draft has been distributed to the cabinet members.
Al-Manar also said that there are some indications that tonight's meeting of the commission tasked to draft the ministerial statement might be the last.
The parliament will convene for a vote of confidence on the cabinet next week, Al-Manar added.
Prime Minister Najib Mikati announced the formation of the government on June 13 and immediately tasked a committee comprised of 10 ministers representing the cabinet's factions to draft the ministerial statement.
LBC TV confirmed also that an agreement has been reach over the STL clause
Earlier today Parliamentary Administration Committee Chairman MP Robert Ghanem said that the appearance of the cabinet before the parliament with the ministerial statement within thirty days according to the Constitution Article 64 is a must otherwise it will cease to exist .
Earlier today also Health Minister Ali Hassan Khalil said that an agreement was reached on a proposed formula regarding the ministerial statement's stance on the Special Tribunal for Lebanon (STL) which will satisfy everyone, National News Agency reported. Khalil added " March 14 will be pleased if they want to know the truth."
NBN television also confirmed that a breakthrough was reached over the coining of the clause about STL and that the cabinet will convene Thursday at 9:00 a.m.to finalize its statement before presenting it to the parliament for the confidence vote