Syria's UK ambassador summoned over protester intimidation claims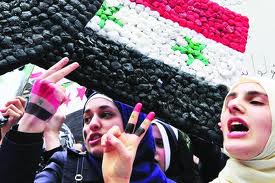 Syria's ambassador to Britain has been called into the Foreign Office and warned about allegations that a diplomat at the embassy has been intimidating Syrians living in the UK. A Foreign Office spokesman said on Monday the police had not received any complaints but the ambassador, Dr Sami Khiyami, was told of "strong concerns" about media allegations of intimidation.
"Any such activity would amount to a clear breach of acceptable behaviour," Christian Turner, the Foreign Office's Middle East director told the envoy. "If such claims were substantiated, the Foreign Office would respond swiftly and appropriately."
Syrians who have protested in London have said they have received phone calls and visits to their homes, while members of their families in Syria have been threatened. One man described how the country's secret police had visited his parents' home warning them to stop him taking part in any further demonstrations after he was photographed outside the embassy in London. Another said a Syrian official had warned him not to mix with the demonstrators.
The demonstrators say that although the embassy does not have the power to arrest expatriates, the regime can attempt to control their behaviour by intimidating and detaining their relatives, or threatening to arrest them if they return to Syria.