MP Murr to grant his vote of confidence to new cabinet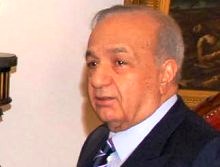 MP Michel al-Murr revealed on Tuesday that he will grant his vote of confidence to the newly-formed Lebanese cabinet headed by Prime Minister Najib Mikati.
"I cannot withhold the vote of confidence to a cabinet in which Speaker Nabih Berri is represented," Murr was quoted as saying by the National News Agency , following talks with Berri in Ain al-Tineh.
"My relations with Berri are very firm," the MP said.
He added: "The second reason is that everyone was demanding and screaming 'we want a government and the people can't take it anymore', and in fact leaving the country without a government for four or five months amid these explosive situations in the region was an abnormal thing. "
He added that he does not want to take "an aggressive position" against the newly-appointed ministers "before we know what the cabinet will achieve."
The Iranian- and Syrian-backed Hezbollah brought down PM Saad Hariri's government on January 12 over the Special Tribunal for Lebanon's (STL) imminent indictment which is widely expected to implicate Hezbollah members in the assassination of former PM Rafik Hariri in 2005.
PM Nagib Mikati was appointed in January as the PM designate with the backing of the Hezbollah March 8 alliance and MPs Walid Jumblatt and Mohammad Safadi . March 14 leaders have repeatedly said that intimidation from Hezbollah's weapons helped secure the parliamentary majority for Mikati's nomination and refused to join the government.
Jumblatt and his PSP parliament members reportedly switched allegiance to Hezbollah's PM candidate, following threats by Hezbollah.
The parliamentary blocs of Jumblatt, Mikati and Safadi ( total 11 MPs) were all elected on March 14 electoral tickets during the 2009 parliamentary elections.
Murr did not nominate Mikati for the premiership, but backed the re-nomination of Hariri. His son Elias who was the defense minister in the former cabinet was considered part of the share of Lebanese president Michel Suleiman