Charbel prevents Rifi from traveling to France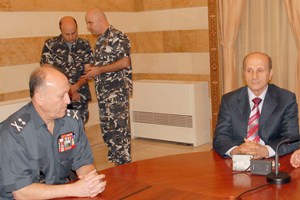 Interior Minister Marwan Charbel  has reportedly prevented  Internal Security Forces chief Ashraf Rifi  from  travel outside of Lebanon "during this critical time" in the country.
Rifi was reportedly planning to take part in a security conference in France, according to  Al-Akhbar newspaper.
Former PM Saad Hariri is reportedly still in Paris because he has received several threats on his life .
According to observers the  Charbel   has been undermining  Rifi ever since  he was named  as an Interior Minister. Al-Akhbar reported  Saturday that Charbel ordered a freeze on the promotion of the 400 internal security employees from ( policemen to sergeants ) that were recently promoted by Rifi.
The daily said the newly promoted employees had to give up their badges a day after the ISF chief promoted them.
Charbel represents president Michel Suleiman in the new cabinet , while Rifi is supported by former  PM  Hariri , a key leader in the March 14 alliance . According to analysts if Suleiman will start targeting March 14 supporters he will cease being a centrist and could be subjecting himself to attacks by the new opposition.