Mikati urges Assad to speed up implementation of reforms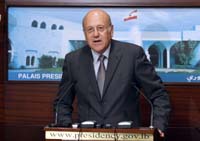 Lebanese Prime Minister Najib Mikati expressed hope during an interview with Arabic satellite channel Al-Arabiya that Syrian President Bashar Assad will speed up the implementation of promised reforms, so stability will return to Syria.
"I hope President Bashar Assad will implement the pledged reforms, so stability will return to Syria" Mikati said
The interview that was recorded Thursday evening on "meet the press program" and will be aired Friday evening.
Mikati also said that the new Lebanese government will deal with Syrian refugees fleeing into Lebanon in a purely humanitarian manner and away from politics .
Regarding the Special Tribunal for Lebanon, Mikati said that if it were what the people of the country wanted, the new government would reject U.N. Security Council resolutions concerning the court.
On the other hand, the prime minister said that without a national consensus on the issue he would stick to the position of previous governments. The last government, of former Prime Minister Saad Hariri, was committed to both U.N. Resolution 1757, which lays out the protocol for the relationship between the Lebanese government and the STL, and Resolution 1701.
"If there were no Lebanese consensus on a particular decision, I will continue to carry on the commitments made by the previous governments," he said.
"I will continue to respect international resolutions until an agreement is reached during the national dialogue talks ," Mikati said
In response to question about the disarmament of Hezbollah, Mikati said Hezbollah arms will be discussed during the national dialogue, but added that weapons should be removed from cities.