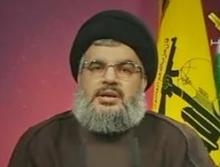 Hezbollah Secretary General Sayyed Hassan Nasrallah will make another TV appearance via video link on Friday during which he will deliver a speech according to a Hezbollah statement issued on Thursday by its Media Relations Department
He will address the latest developments in Lebanon and in the Middle East at 8:30 p.m. the statement added .
Hezbollah lashed out against Bahraini courts Thursday, for a verdict the day before sentencing Shiite opposition leaders to life imprisonment.
'The Bahraini government, with such decisions against the peaceful opposition in the country, is targeting the rights of the people of Bahrain,' read a statement released in Beirut by the group.
Hezbollah has been actively supporting the protest by the Shiites against the government of Bahrain but has been dead against the protests by the Syrian people against the regime in Syria.
Several reports revealed that Hezbollah and Iran are helping the Syrian regime in its brutal crackdown against the Syrian protesters, but both Iran and Hezbollah denied any involvement.
Over 1400 civilians were killed by the security forces in Syria and over 8000 have been wounded . Activists also claim that over 10,000 have been detained.
Bahrain has accused Hezbollah and its backer, Iran, of actively plotting with the Shiite opposition to overthrow the country's Muslim-Sunni ruling family by organizing protests in February.
The Bahraini protests were initially aimed at achieving greater political freedom and equality for the majority Shiite population, and expanded to a call to end the monarchy of King Hamad following a deadly night raid on 17 February against protesters at the Pearl Roundabout in Manama.
After a month, the government requested troops and police from the Gulf Cooperation Council, which arrived on 14 March, and a day later, the king of Bahrain declared martial law and a three-month state of emergency.The following day, security forces violently confronted protesters at the Pearl Roundabout, drawing international condemnation.
Bahrain Center for Human Rights claimed on 14 April, that 31 protestors were killed since the start of the unrest in Bahrain, while the government stated that a total of twenty-four people had been killed in the protests. Bahrain's Interior Minister, Sheikh Rashed bin Abdullah al-Khalifa said on March 29 that four security officers, seven civilians and 13 protesters died in the weeks of unrest. Two of the civilians were an Indian and a Bangladeshi.