Silence of Venezuela's Chavez fuels speculation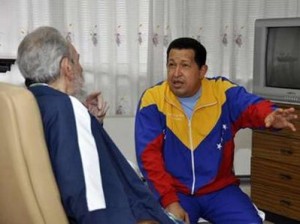 Venezuela is abuzz these days over the condition of its normally omnipresent president, Hugo Chavez — whose prolonged, uncharacteristic silence and convalescence in Cuba have generated all manner of rumor.
The firebrand leader, who is usually given to verbose speeches across all media, has not been seen or heard from since he was hospitalized on June 10 in Havana for what officials said was an operation for a pelvic abscess.
No interviews, no broadcast tirades and no Twitter postings for two weeks have fueled speculation across online social networks and in bars and cafes.
Officials have tried to be reassuring, saying Chavez, 56, was recovering well and was continuing to give orders from Cuba and keep abreast of developments in Venezuela.
However, many remain unconvinced. All the more so that a riot last week in a prison that left 25 people dead and an electricity crisis — both events that would normally elicit a quick response and perhaps hours of chatter from the president — have prompted no media appearance at all from Chavez.
"It's all very dark, opaque and mysterious," said Ignacio Avalos, a sociology professor at the Central University of Venezuela. "It's very unclear. As a Venezuelan, I would have bet my two kidneys that Chavez would have at least said something about what happened in El Rodeo prison."
"The president is in the process of recovering. Soon, Hugo Chavez will be here in Venezuela," said Venezuelan Vice President Elias Jaua, a figure loyal to Chavez who has rejected any suggestion of him temporarily taking over presidential duties.
Luis Vicente Leon, the head of the Datanalisis polling firm, said he believed the secrecy surrounding Chavez's illness was an attempt to preserve the president's image as an "invulnerable man."
"They are trying to pass off the problem as minor, that it hit him by chance while he was in Havana and that he can rule from Cuba for a while … This could be a way to set up a triumphal return, but Chavez has to reappear soon, because otherwise it could prove dangerous to his image," he said.
In the legislature, a fierce debate is raging over whether Chavez has the right to rule from abroad. The minority opposition is demanding more transparency.
"Right now, the invincible superhero who was about to throw himself into a campaign to win an election is sick, and that loss of his invulnerability could undermine the campaign," Leon said.
That was in reference to next year's presidential election that Chavez aims to see deliver him a third mandate of six years.
Avalos said Chavez's silence on the eve of the electoral campaign "doesn't favor the government at all."
"Venezuelans who hold hope in the government are now seeing that 'Chavismo' with Chavez seems impossible, and that is creating a great deal of uneasiness because they are feeling that there is no one able to replace him," he said.