Assad discussed the Lebanese cabinet with Arslan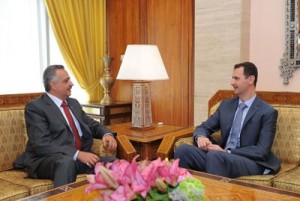 Bashar al-Assad, Syria's embattled president found time to meet on Wednesday with Lebanese Democratic Party leader MP Talal Arslan who has resigned from PM Najib Miqati's cabinet hours after the cabinet was announced last week .
Syria's government owned news agency SANA reported that the two discussed the newly formed cabinet and the situation in Syria.
According to activists over 1400 civilians have been killed since the protests began last march and at least 8000 were wounded and more than 10000 have been detained by the Syrian regime
Arslan announced his resignation during a press conference on June 13 and accused PM Nagib Mikati of lying and causing a rift between him , MP Walid Jumblatt and MP Michel Aoun.
Arslan was always insisting on being allocated a ministerial portfolio , but instead he was assigned a ministry of state . Ministries of state are usually used as a filler to complete the lineup.
Arslan who later apologized said "Mikati lied to all the Lebanese and caused rifts between many people , he thinks he is the smartest and this is something we cannot accept". He added :" I have lost all confidence in Mikati and his abilities to seriously run the country".
Lebanese Democratic Party media adviser Salim Hamadeh, unveiled that a decision was in the making to resolve the issue of Arslan's resignation
Arslan's brother-in-law, Marwan Kheireddine, will most probably replace him as minister of state, according to Hamadeh but the final decision will be up to the party .