Berri to hold cabinet vote of confidence session June 29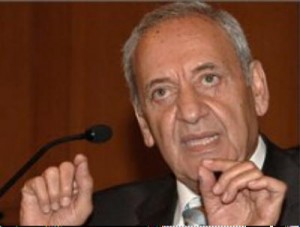 Speaker Nabih Berri told Al Jumhouria newspaper in report published Wednesday that he intends to hold the cabinet vote of confidence session on Wednesday June 29 provided he gets the ministerial policy statement by this Saturday June 25.
He added that he intends to distribute copies of the statement to the MPs to allow them enough time to prepare for the parliament session.
Asked to comment on the rumors that the opposition may boycott the session or may strongly oppose the statement he said . We are the majority if the 60 opposition MPs will talk, 68 majority MPs will talk and if they boycott the session they will make our job easy and will limit the discussions to four MPs and will give the cabinet the vote of confidence
Asked about the contents of the ministerial policy statement with regards to non-state ( Hezbollah) arms , the International resolutions and the Special Tribunal for Lebanon ( STL) , he said : We are committed to the triangular formula of "The army , the people , the Resistance ". We are also committed to UN resolutions and specially 1701 , but as far as the STL is concerned when we get to it we will pray for it".
The Iranian- and Syrian-backed Hezbollah brought down PM Saad Hariri's government on January 12 over the Special Tribunal for Lebanon's (STL) imminent indictment which is widely expected to implicate Hezbollah members in the assassination of former PM Rafik Hariri in 2005.
PM Nagib Mikati was appointed in January as the PM designate with the backing of the Hezbollah March 8 alliance and MPs Walid Jumblatt and Mohammad Safadi . March 14 leaders have repeatedly said that intimidation from Hezbollah's weapons helped secure the parliamentary majority for Mikati's nomination and refused to join the government.
Jumblatt and his PSP parliament members reportedly switched allegiance to Hezbollah's PM candidate, following threats by Hezbollah.
The parliamentary blocs of Jumblatt, Mikati and Safadi ( total 11 MPs) were all elected on March 14 electoral tickets during the 2009 parliamentary elections.