Estonian Envoy meets Lebanon president, PM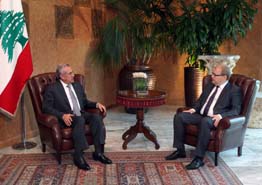 President Michel Suleiman met on Tuesday with Estonian Minister of Foreign Affairs Urmas Paet at the Baabda's Presidential Palace, according to the National News Agency.
The two discussed the latest developments concerning the case of the missing Estonians and the information accessed by the Lebanese authorities so far, the report added.
Seven Estonian men, all in their 30s, were kidnapped on March 23 shortly after entering Lebanon on a bicycle tour from neighboring Syria.
Several people have been arrested in Lebanon in connection with the case but there is no clear evidence as to who ordered the kidnapping or where the men are.
The Estonian envoy who arrived in Beirut at dawn on Tuesday met earlier the Lebanese PM at the Serail and expressed satisfaction over the cooperation between Lebanon and his country .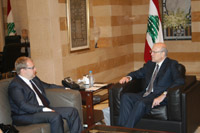 "I hope the cooperation would continue after the formation of the new cabinet," Paet said following talks with Prime Minister Najib Miqati.
He stressed that the main goal is to win the release of the seven tourists.
The case remains shrouded in mystery.
The kidnapped Estonians appealed for help in two videos posted on the Internet on April and May. The first was uploaded in the Syrian capital Damascus, investigators said, leading to speculation that the men had been moved across the border.