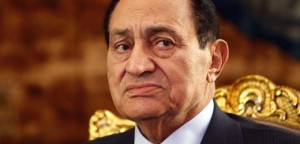 Egypt's former President Hosni Mubarak is suffering from cancer, his defence lawyer said on Monday, citing a medical report to assess whether the former leader is fit enough to face trial.
"Mubarak has cancer and this was included in the last medical report," said lawyer Farid el-Deeb.
Mubarak, 83, was forced from office in February after a popular uprising. He is due to stand trial on Aug. 3. for the killing of protesters and abuse of power, charges he denies.
He has been detained in hospital in the Red Sea resort of Sharm el-Sheikh since mid-April after officials said he had heart problems during initial questioning.
The timing of Mubarak's illness means he has been spared jail, fuelling talk that the former decorated air force officer was getting special treatment from the army which took power after his overthrow.
A committee of doctors appointed to assess Mubarak's state of health said in late May that he should not be moved to a prison hospital because he was depressed, had poor blood circulation and was at risk of a sudden heart attack.
The medical team also said he had tumours in his gall bladder and pancreas, for which he had operations in the past.
Rumours over Mubarak's health circulated for years before he was ousted from power but government officials always denied any life-threatening illness including cancer.