Security Council backs U.N. chief Ban Ki-moon for second term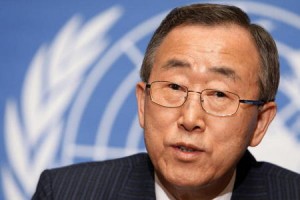 U.N. Secretary-General Ban Ki-moon was officially tapped Friday for a second term by the U.N. Security Council in a unanimous and widely expected nomination.
The measure will now head to the General Assembly for final approval Tuesday.
If approved, it would mean another five-year term for the South Korean diplomat, who was not challenged for the top job.
The announcement was made by the current president of the Security Council, Noel Nelson Messone, the ambassador from Gabon.
Ban's backers claim he was out in front on issues like the recent unrest in the Middle East and climate change.
His detractors say he is not a great communicator or negotiator and travels too much outside of New York.
The former South Korean foreign minister was elected by the 192-member U.N. General Assembly in October 2006 to succeed Kofi Annan.
He is the world body's eighth secretary-general and the first from Asia since U Thant, from what is now Myanmar, who served from 1961 to 1971.
"These four and a half years have been marked by extraordinary challenge for the United Nations and the international community," Ban said earlier this month. "We can be proud of what we've accomplished together."
Saying he has sought to be a bridge builder who seeks to find common ground, Ban has had few public adversaries over his first term and is expected to be easily approved.