Lebanon PM: Civil peace is a red line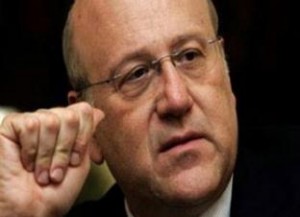 Prime minister Nagib Mikati commented on the clashes in Tripoli during a press conference by saying that the timing of what happened in Tripoli is suspicious, stressing that civil peace is a "red line" and that he will not compromise on this matter
Those who think that they are above the law are mistaken and the army has clear orders to put an end to this sedition, he said adding "I have tasked investigation committees with probing today's events."
Mikati predicted that the situation will be contained by this evening.
Asked who may be behind the violence he said:
"We can't accuse anyone at the moment and we believe that what's happening in Syria has nothing to do with us whatsoever. "
He added: We want stability and development and we won't allow anyone to harm Tripoli in any way and when security is restored, we will begin the development process.
In a related development President Michel Suleiman met with Interior Minister Marwan Charbel and Defense minister Fayez Ghosn to discuss the violence in Tripoli and ways and means for ending it.
The security official of the Arab Democratic Party, Ali Fares, was killed on Friday in a gunfight between gunmen positioned in the rival neighborhoods of Jabal Mohsen ( mainly Alawites who support the Syrian regime ) and Bab al-Tabbaneh ( mainly Sunnis who support the Syrian uprising ).
The gunfight started at Syria Street, which divides the two neighborhoods, after a demonstration in support of the Syrian people, which was launched soon after Friday Muslim prayers.
New TV reported that one member of the Lebanese army Mahmoud Abdul Hamid was also killed and another was injured in the gunfight, as well as 7 civilians.
Tensions remained high in the area despite the army's heavy deployment.