Jumblatt says the new cabinet is a national unity cabinet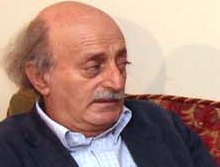 Yesterday Progressive Socialist party leader MP Walid Jumblatt claimed that the new majority has proven that it can govern and today he said the new cabinet is a national unity cabinet .
He made the first statement barely one day after the cabinet was announced and made the second statement on Wednesday after visiting PM Nagib Mikati at his residence in Verdun.
He also said on Wednesday that the new national unity government is not imposed" by a foreign country.
"In the end, we produced a national unity cabinet that was not imposed, as it has been claimed," Jumblatt told reporters
He also said that the cabinet is "diverse and comprises all democratic views."
According to observers it was Jumblatt who brought the green light from Syria for forming the cabinet and this is why the cabinet was announced within 3 days following Jumblatt's return from Damascus.
Jumblatt statements about the cabinet being a unity cabinet , diverse and not influenced by Syria contradict completely with those of March 14 leaders
For example Lebanese Forces leader Samir Geagea , a key member of the March 14 alliance said on Wednesday that Lebanon was better off without the newly-formed cabinet, in its current shape which he called " dangerous for Lebanon" and does not represent the Lebanese people.
"It would have been better for Lebanon to remain without a cabinet rather than having a controlled cabinet dating back to the Stone Age," he said in reference to Hezbollah and its backers Syria and the Islamic republic of Iran
"This cabinet is contradictory to what is happening in the region; it puts Lebanon outside the Arab countries' bloc." Geagea added.