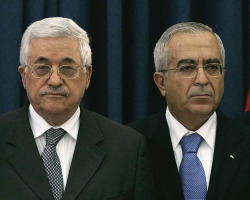 Influential members of the militant Islamic group Hamas on Sunday balked at the nominee of the rival Fatah party for prime minister in a shared government, the first significant snag in carrying out a reconciliation pact signed last month by the Palestinian factions.
Fatah on Saturday nominated the current prime minister, Salam Fayyad, a political independent, as its candidate to head the new government, a move designed to maintain Western aid to the Palestinian Authority. Fayyad, a U.S.-educated economist, is respected by foreign donors and has been credited internationally with building government institutions necessary for Palestinian statehood.
The United States, Israel and the European Union have warned that they would have no dealings with a new Palestinian government backed by Hamas unless it renounces violence, recognizes Israel and accept previous Palestinian-Israeli accords.
Hamas has rejected those conditions, and on Sunday one of its leaders in Gaza said Fayyad was unfit to lead a new unity government. Under the Fatah-Hamas accord, which ended a four-year rift, the two factions agreed to form a government of unaffiliated technocrats whose chief task would be to prepare for parliamentary and presidential elections in a year.
"Salam Fayyad is unacceptable, because he has drowned the Palestinian people in billions of dollars of debt and made its economy dependent on foreign donors," Salah Bardawil, a member of the Hamas political bureau, said by telephone from Gaza.
He accused Fayyad of cooperating with the United States and Israel in a crackdown on Hamas in the West Bank, jailing its members and shutting down institutions affiliated with the movement.
Fayyad's name was not among four candidates, two from each side, considered in previous discussions between Fatah and Hamas, Bardawil said.
Mahmoud Zahar, another Hamas leader in Gaza, said by telephone that Fatah had presented Fayyad's candidacy as an ultimatum, contrary to an agreement to reach a consensus. "This is a violation of the agreement," he said. "We're speaking about principles, not particular names."
Zahar said he was "not accepting or rejecting" Fayyad, but that the decision on the future prime minister had to be hammered out by the factions.
Ghassan Khatib, the spokesman of the current government headed by Fayyad, declined to comment, citing the sensitivity of the subject.
Representatives of Hamas and Fatah are scheduled to meet Tuesday in Cairo to discuss cabinet appointments.
Photo: Palestinian prime minister, Salam Fayyad R with Palestinian president Mahmoud Abbas