Syrian security forces kill seven protesters
Syrian security forces have shot dead seven anti-regime protesters, including two in Daraa, according to an updated toll provided by human rights activists.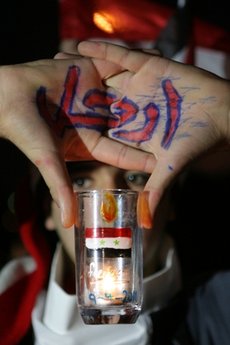 Three civilians were killed on Friday in the Qabun district of Damascus, and another two were slain in the Bosra al-Harir area of southern Daraa province, an epicentre of pro-democracy protests that have shaken Syria since mid-March.
A sixth person was shot dead in the coastal resort of Latakia, said the head of the London-based Syrian Observatory for Human Rights, Rami Abdel Rahman, reached by telephone from Nicosia.
The seventh fatality occurred near Al-Sirmanya in northwestern Idlib province, another human rights activist told AFP, requesting anonymity.
Idlib has been the focus of a massive security force crackdown in recent days.
On Friday, troops launched an operation against what state television said were "armed gangs" in the Idlib town of Jisr al-Shughur and surrounding villages after the authorities said 120 policemen and troops were massacred there on Monday.
Opposition activists say the deaths resulted from a mutiny by troops who refused orders to crack down on protesters.
Pro-democracy demonstrators had called for protests after weekly Friday prayers, urging Syria's tribes to mobilise against the ruling Baath party.