Berri postpones parliament session to June 15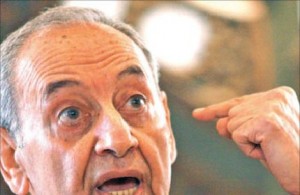 As was expected Speaker Nabih Berri failed in his efforts to hold a parliamentary session on Wednesday due to lack of quorum and postponed it to June 15 .
Only 58 MPs attended the session . For the quorum to be met at least 65 MPs should attend ( half the 128 member parliament plus one ).
Parliamentary sources told al Jumhourya newspaper that Berri will be issuing invitations for a June 22 session if the quorum will not be met on June 15 and will continue to do so every following week until the quorum is met .
PSP leader MP Walid Jumblatt and members of his bloc ( total 7 ) and PM designate Najib Miqati and his Tripoli allies, MPs Ahmed Karami and Mohammed Safadi boycotted the session as per their announcement last week.
Jumblatt proposed a solution to the June 8 parliamentary session Al Hayat newspaper reported early Wednesday.
His proposal call for giving priority to the issue of extending the term of Central bank Governor Riad Salameh. Jumblatt wants this issue to be the first on the agenda instead of being number 36 out of 49. In such a case he and his bloc members will attend and will leave as soon as the bill on the term for Salameh is voted on.
Al Hayat predicted that Berri will not accept Jumblatt's proposal because as soon as the PSP leader leaves the parliament with the members of his bloc it will lead to the loss of meeting quorum and therefore he cannot continue with the legislative session, knowing that PM designate Nagib Mikati and his bloc members will also boycott the session.
Before the planned session, a meeting was held at Berri's office which was attended by , PM designate Najib Miqati, MPs Michel Aoun, Walid Jumblatt, Suleiman Franjieh, Mohammed Raad, Talal Arslan and Assaad Hardan.
Following the meeting Berri tried to justify his call for a parliamentary session and renewed his attacks against March 14 and the Cedar Revolution.
He accused the March 14 "Cedar Revolution" of "attempting to thwart parliamentary initiatives" .
"The Cedar Revolution takes a step forward to hold us many steps back by insisting to monopolize powers and by foiling the initiatives taken in parliament," Berri said during a press conference he held at the parliament building in Nejmeh Square.
He said that convening parliament before forming a new cabinet headed by Mikati is constitutional.
"The constitution notes that the Third Chapter determines the circumstances under which parliament can convene. Among these conditions, there is no requirement that the [caretaker] cabinet should convene," the speaker said.
He added that the delay in the formation of the cabinet "was not a reason behind the calls to convene parliament."
"The calls are an incentive to speed up the cabinet formation.
"Some parties are saying that we should ratify only one point on the parliamentary agenda. I do not know how they interpret matters. The session is either constitutional or not," Berri said in response to Jumblatt's proposal
Berri also said that he does not want to incite divisions in the country, adding that he "defies anyone" who accuses him of ratifying laws for personal gains.