Hezbollah chief and Aoun didn't meet, report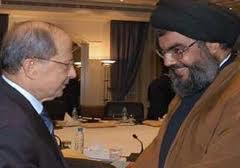 Free Patriotic Movement ( FPM) MP Salim Salhab denied reports that his leader MP Michel Aoun met with Hezbollah Secretary General Sayyed Hassan Nasrallah and discussed with him the cabinet-formation process.
Meetings between Aoun and Nasrallah are not declared beforehand for security reasons, he told Voice of Lebanon , adding that an announcement would be made only after the two meet.
Nasrallah has been hiding since the 2006 war with Israel. Last April he was quoted as saying in one of his televised speeches : " I am proud to say that I am hiding because the Israelis are eyeing me and want to kill me."
Al-Liwaa daily reported Tuesday that Nasrallah and Aoun met to try to end the government impasse,
Salhab also said that Aoun and President Michel Suleiman reached an agreement last week over the cabinet-formation details, but added that some media leaks had negative effects on the deal.
"Some parties in the new majority do not want to accelerate the cabinet-formation process." He said without elaborating
The Iranian and Syrian backed Hezbollah brought down PM Saad Hariri's government on January 12 over the Special Tribunal for Lebanon's (STL) imminent indictment which is widely expected to implicate Hezbollah members in the assassination of former PM Rafik Hariri in 2005.
Lebanon has been run by a caretaker government since last January. nagib Mikati was appointed in January as the PM designate with the backing of the Hezbollah led-March 8 alliance, MPs Jumblatt and Mohammad Safadi . March 14 leaders have repeatedly said that intimidation from Hezbollah's weapons helped secure the parliamentary majority for Mikati's nomination.
According to analysts Hezbollah has been hiding behind Aoun's demands for the ministries of Interior , Communications and justice in order to have full control of Lebanon's security , but president Michel Suleiman is trying to make sure that the ministry of interior goes to a centrist