Extradition to France of accused Lebanese-Canadian bomber approved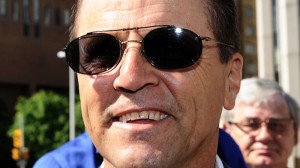 An Ontario judge has approved an extradition order for a former Ottawa university lecturer accused of being behind a deadly bombing outside a Paris synagogue in 1980, paving the way for him to face murder charges in France.
Hassan Diab, a Lebanese-born Canadian who taught sociology at both the University of Ottawa and Carleton University, was arrested in Gatineau, Que., in November 2008 at the request of French authorities.
Ontario Superior Court Justice Robert Maranger signed the committal order on Monday morning in an Ottawa courtroom, giving Justice Minister Rob Nicholson the final decision on whether to transfer Diab to French authorities.
Maranger ordered Diab taken into custody, saying Canada's extradition treaty with France requires him to rule the 57-year-old must be surrendered. But the judge also said France has presented a "weak case" that is "unlikely" to result in a conviction.
Diab, in a statement following the ruling, denied any role in the bombing, while his lawyer René Duval said his client would appeal the decision.
"I am innocent of the charges against me," Diab said. "I will take every legal opportunity to clear my name and I look forward to the day in which I can reclaim my life."
France alleges Diab was a member of the Popular Front for the Liberation of Palestine who made and planted a bomb that killed four people and injured more than 40 others on Oct. 3, 1980, outside the Copernic Street synagogue in Paris.
But Diab insists his case is one of mistaken identity.
Stamps in Diab's 1980 passport indicated he was not in France at the time of the bombing. But his handwriting allegedly appears on a hotel registration card — evidence his lawyers have vigorously disputed.
At his extradition hearing last November, Diab's lawyer argued French investigators are basing their allegations on "secret, unsourced intelligence."
A spokeswoman for Nicholson said Monday the justice ministry does not comment on matters of extradition.
In France, Diab would face charges of murder and attempted murder and face life in prison if convicted.